Glass Railings play important role in finishing your staircase, landings, porch or balcony. There are unlimited number of ways how to design and build your glass railing system. Every railing project is unique, because there are no two identical staircases or landings. There are also different design styles and we are always trying to fit railing system to match design of the house, for traditional, contemporary or modern style of your space.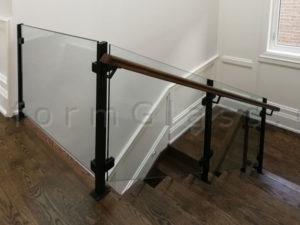 For houses designed in traditional (or classic) style, we use metal of wooden posts that are secured on the surface of the steps or landing floor. Glass panels are secured between the post with glass clamps that are usually have square or rounded shape. Handrail brackets can be secured on the posts (as you see on the picture) or can be attached directly on the glass panels.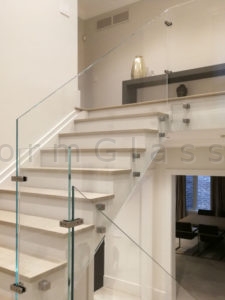 To complement modern style of open concept residences, we use stand-offs hardware that attached on the side of the staircase stringer. For this project we have used square shape stand offs. We have installed stand offs in pairs along the stringer and along the landing. This allows us to achieve all glass look, with minimum hardware exposed above the staircase. Side glass panels are floating and connected only with four angle brackets. Handrail for this project will be installed on the wall side. To achieve extra clean look, for this project we have used safety tempered starphire glass.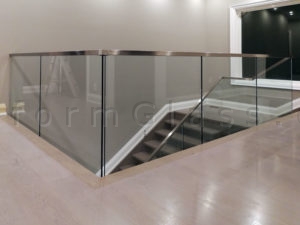 In this project we have installed all glass panels with 2" diameter stand offs and installed square stainless steel cap rail on top of the glass.
Actual cost of every railing project is calculated based on selected hardware and staircase layout.
Prices start from $250 per linear foot of railings.