Wall Glass Cabinets – amazing and elegant alternative to wooden shelves and cabinets. We fabricate custom wall mounted cabinets according to customer specifications and design requirements. We install Glass Cabinets to suite your decoration and space. Possible installation options are limited only by your imagination:  as single shelves, as a row, or in a specific decorative pattern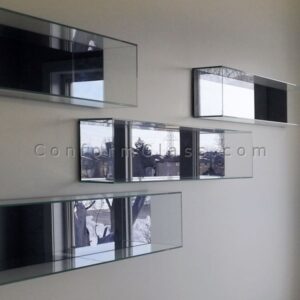 We have installed these four elegant custom cabinets in modern master bathroom to create random pattern on the wall across vanity mirror. Clear safety tempered glass for walls and shelves. Back of the cabinets is made from grey mirror with safety protective film applied from back side.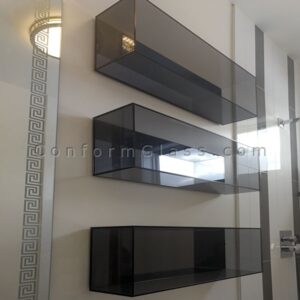 We fabricated this grey version of wall glass cabinet to complement bathroom that is finished in black and white color scheme. Three glass boxes installed in a vertical row next to the vanity mirror. Walls of these cabinets are made from grey color safety tempered glass and we used grey mirror for the back wall of these boxes.
Two elegant glass cabinets fabricated from clear glass with grey mirror back, installed on the wall of home office. Walls of the boxes are made from safety tempered glass. Installation is done without exposed fasteners by using extruded aluminum z-clip attached with structural adhesive to the back side of these boxes.
Delivery and installation of glass cabinets, shelves, furniture and mirrors is very specific work that require accuracy and precision. We are glad to announce The Rite Man as our preferred choice installer in Toronto and GTA. 
We also have a special offer that includes free delivery and installation of selected products in Toronto and GTA. This is our special program to make sure that you will receive our products and get them installed properly and without damage.
Designed and manufactured in Canada.
Limited time offer: Order 2 cabinets for $499 each (regular $799) and we will deliver and install them for you at no additional cost in Toronto Area. Size 30″x12″x6″. Clear Glass and Clear, Grey or Bronze Mirror Backing.