Mirror Wall will open up any space.
Mirror Wall Cladding is another way to enhance small space. It will bring more natural light into your room and will. Mirrors can be applied as a large pieces as well as smaller square or rectangular pieces to create certain pattern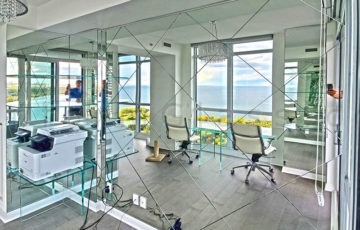 We have installed multiple pieces of square mirrors on the wall of this den in downtown condo apartment. As you you can see on these before and after pictures – mirrors have completely transformed the wall.
If you just need a simple mirror or you want to cover entire room or wall, don't hesitate to drop us a line or just simply call us. We will find a solution to bring your concept into the reality.